Services
What we can do for you...
DeliveryLive Bait Pen Rental Live Bait Well Rental Beach Marine Pens Custom Holding System Design
---
Delivery
Life on the Line specializes in live bait delivery. Unlike your regular bait shop, we carry many species that until now were unavailable for purchase in the Florida Keys. Bait species such as Pilchards, Goggle Eyes, Mullet, and Blue Runners are not easily transported as they are much more delicate than shrimp or crabs. Our truck carries large specialized life support systems to ensure live healthy bait upon arrival. We deliver straight to your bait pen or livewell. Our truck can deliver any time of day or night from Key Largo to Key West.
A delivery fee may be required depending on location.
Delivery Fee Schedule
Key West to Sugarloaf Key - $15
Cudjoe Key to Big Pine Key - $5
Bahia Honda to Grassy Key (including Marathon) - $15

Duck Key to Islamorada - $20

Plantation Key to Key Largo - $25

Ocean Reef - $35

Please give us a call to place a delivery order. All major credit cards accepted via PayPal. All sales are recorded through PayPal with a detailed receipt emailed or texted after delivery.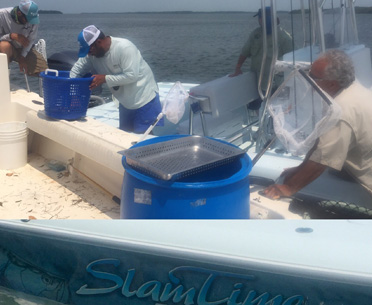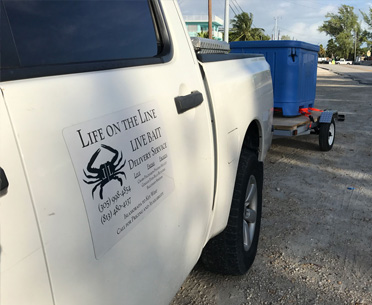 ---
Preparing For Your Delivery
In order to properly prepare for your delivery, please make sure to have your boat in the water with water in your livewell. If you do not have a boat, please make sure you have a bait cage ready to store the bait, as the bait will not survive in a traditional bait bucket with aerator.

If you need to rent a bait pen, we are happy to assist you with this.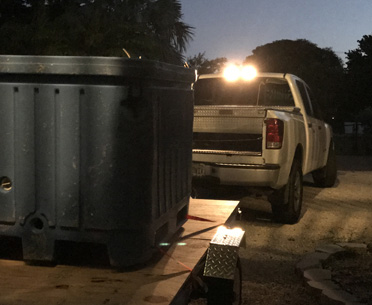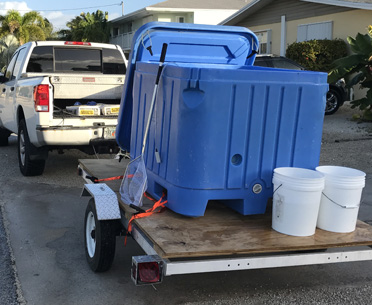 ---
Live Bait Pen Rental - $10/day
We are now offering Bait Cage rentals to our customers. Bait Cages are a great way to keep extra bait alive for re-use. The pens we use are homemade 44 gallon Brute Trash cans. Whether you live on the water or are staying at a hotel with a marina, a cage can be deployed just about anywhere. Water quality can be an issue on some canals because closed canals or stagnant water can lack the required oxygen and may contain bacteria and hydrogen sulfide that is poisonous to most marine life. If you are unsure if a bait cage will work for you give us a call and we can help you determine if your water is suitable. We can also provide a high quality fish food for your bait to keep them well fed and energetic.
When you rent a cage we will drop it off at your location and pick it up when you are finished.
Give us a call to schedule a bait cage rental for your trip today!
---
Beach Marine Pens
We now offer high-quality Beach Marine Pens for purchase. Check out the videos below to see the professional fishing equipment you can purchase from us. Beach Marine Pens are also available for rental. The rental cost is $20/day and you must provide us with your credit card to keep on file. If you fail to return the pen the credit card that we keep on file will be used to charge you for the full cost of the pen.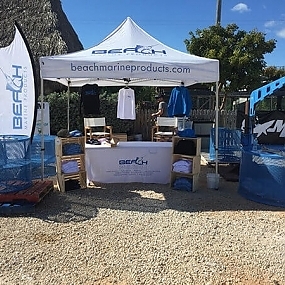 Beach Marine Product Booth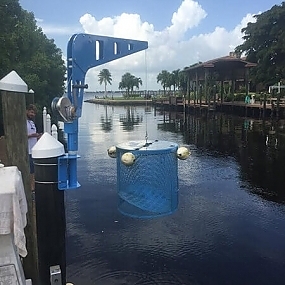 100 Gallon Transfer Pen With Davit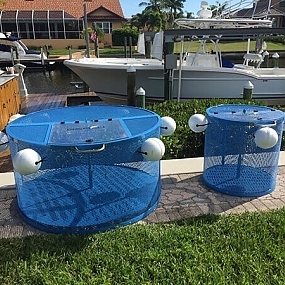 300 and 100 Gallon False Bottom
---
Live Bait Well Rental - $30/day
We are now offering Live Bait well rentals to our customers. We will set you up with a 12v aerator that circulates water while you are on plane. Once you stop the boat, simply throw the pump overboard into the water and it will work just like a standard livewell. Just return when you're finished or we'll come pick it up!
Give us a call to schedule a live bait well rental for your trip today!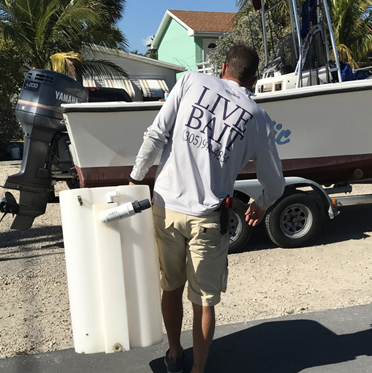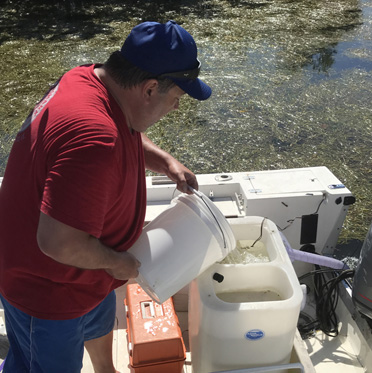 ---
Custom Holding System Design for Residential or Commercial Installation
We specialize in custom holding system designs for all types of baits, installed for residential or commercial use. Reach out to us today to schedule a free consultation to determine the best custom holding system for your bait needs.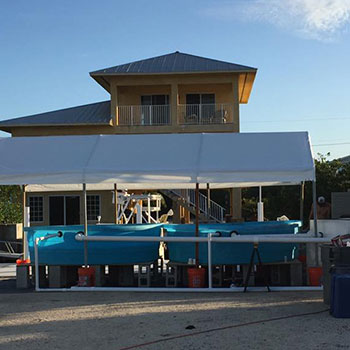 ---
Cast Net Lessons
We offer basic land lessons and lessons on a boat. The boat lessons include teaching you how to find the bait in addition to throwing the cast net. If you are interested in this service please call us for pricing: (305) 998-4854
---
Rigging Lessons
Rigging Lessons include anything you are interested in learning. Whether you want to learn how to rig swordfish baits, ballyhoo, basic knot tying or advanced knots, Life on the line has you covered. All rigging lessons are $100 for the first hour and $50 for every hour after that.